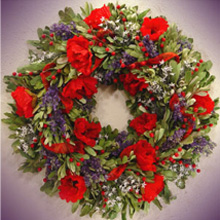 Nature's mélange makes the most beautiful decorations during festivals, Christmas in particular. Rose hips, holly and ivy plantations mark the festive winters. However, with decorative resembling nature's beauty, Glorious Natura could be brought inside our homes.
Ornamentations are often made out of natural matter that wow decors with antiquity. Rose buds, dried flowers and leaves, twigs and berries, false birds and snow are few out of the lot, to let your imagination run wild. You don't require to hesitate in making a nature-like aura in your home- berries that look ready to pop in, snow that makes you feel cold and gift boxes and handmade cards that hearten you to open them, every time. Balls, stars, wreaths, Christmas trees, goodies, felt hearts, angels, stockings, and figurines add to the beauty of Christmas decorations. Ribbons, colorful sparklers, golden embellishments and decorative candles are accents that give the perfect glam and glitz to the outdoor xmas decorations.
Extravaganza with a touch of Natura certainly takes you away from the monotonous, automated lifestyle. Celebrate an Eco-Friendly Christmas!