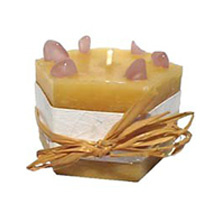 Captive honey-wax!
An eco-friendly product which has multiple purposes, Bee Wax is a by-product of the honeycomb. This naturally sweet smelling Wax Product melts at considerable high temperature.
Wood Wax or the beeswax varnish gives a glazy appearance and sweet, honey-like aroma to timber articles and furniture. The beeswax enamel when stained with different tints of brown, adds beauty to the wooden magnificence. Seal Wax, beewwax cleaner and furniture polish are wooden beeswax accessories.
High quality decorative and scented beeswax candles give the natural honey aroma. Since beeswax has skin care factors, shampoos, soaps, shower gel, lip balm, moisturizers and scrubs are some of the hair and other Beauty Products that are available in the beeswax form. Also, cosmetics such as lip shimmer, eye shadow, eye liner and face mist are made out of hive derivative.
Batik art, coatings of sweets and pills necessitate the sugary by-product of bee hives. If applied to drawer runners, they slide smoothly.
Beeswax Gift Novelties such as candles, skin and hair care products and more, are definitely good gifting. For any occasion, beeswax items make premium Gift Items.