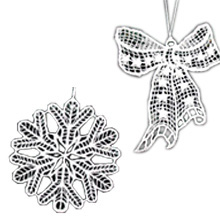 Distinct, unique, yet lucid, lace craft display kind of elegant beauty that fit in a lot of places. The patters knitted speak about its artistry. You can use lacework every place that you want to decorate.
Lace curtains are lovely ways to decorate your home, if you embellish them with lace work. Similarly, tablecloths, mantle scarves, and shelf scarves look best when they are laces. Lace motifs make beautiful ornaments during festival decorations. Lets not stress more, when it is Christmas or any other festivity, put up lace work to decorate your favorite Christmas tree or window accents during a get-together-that shall fascinate your guests. You can stitch lace patchwork on your dresses that will give a unique elegance.
You can gift lace apparels, shawls, handkerchiefs, baby bonnets, window accents, and dolls made out of lace work to show how different you are -creative.